Profiles

JOURNi's Youth Tech Exploration Course

At the end of September, JOURNi held their monthly Youth Tech Exploration Cuts & Code Edition course at the Ford Resource and Engagement Center in Detroit.

Kids from all over were welcome to participate in the course that provided stations for different activities. Stations included CSS and HTML coding, Scratch for building Video Games and littleBits for creating inventions with electronic building blocks.

Tamika Jaja of Warren, Michigan said that this event was her son Ryan's first coding class. Ryan is in third grade.

Ryan has an interest in computer graphics and likes to download different editing apps. He has even asked for his mom to buy him a green screen.

"We've come to a couple events here," Jaja said. "Their website is very informative about upcoming events and it sounded like a really good opportunity for him."

JOURNi ran their very first programs in 2016: My Brother's Keeper Detroit, Grow Detroit's Young Talent and Eastside Community Network. The non-profit organization is focused on providing an inclusive tech environment for residents of Detroit through courses and job opportunities.

JOURNi co-founder Richard Grundy said that there are usually about 30 to 40 kids who participate in Youth Tech Exploration courses each month, and that includes some regulars and some new students. About 90 percent of these students don't have computers at home.

Grundy said that these courses have been entry points for students into some of JOURNIi's longer programs and that JOURNi is always looking for volunteers. The volunteer tech mentors are each selected to help out with a designated station at the Youth Tech Exploration class.

"I'm always impressed by volunteers who come out to these events and give up their Saturdays," Grundy said.

Course Volunteers

Donovan Brown of Detroit is usually the head instructor for the Youth Tech Exploration course. Brown is a web developer who works at a digital ad agency in Ohio and has been in the coding industry for about 5 years as a self-taught developer.

He said that when he was learning to code, he didn't have a mentor to help guide him and that teaching is his way of giving back to the community. He said that he sees kids building a future with these courses.

"I'm jealous of these kids in a sense because I wish I had this when I was younger," Brown said. "I would have ate this up for breakfast."

Annmarie Diener started volunteering for JOURNi this past fall.

"What I personally observe is less of 'now I know x, y and z' and more 'that was fun and interesting and I'm excited to talk about it,'" Diener said. "Which I think is probably more important."

Diener said she thinks that it's more important for the kids to know that they had a fun time learning and want to continue to do so than to know HTML.

Demetrius Moncrease of Southfield had his first day volunteering for Youth Tech Exploration in September.

Moncrease has been interested in becoming a scientist since he was 6 years old. In high school he started to develop an interest in math, robotics and aerospace. He now works as a mechanical engineer in Livonia, Michigan.

"I wish I was a part of something like this when I was their age," Moncrease said.

Superheroes and Video Games Encourage Rising Interest in Tech

One of the mothers attending the event in support of her daughter was Fatima Majid. Majid attended Martin Luther King High School which has a STEM oriented curriculum. She then went on to major in mechanical engineering in college.

"I was born and raised in Detroit, Michigan and being from the Motor City, I think a lot of the students in schools are bred for engineering because we're of the automotive industry here," Majid said.

For a while, she worked as an Industrial Hydrauloics Engineer and later took time off to focus on her family.

Her 8-year-old daughter Josephine attended the Youth Exploration Event for the first time in September. Majid said that her daughter's favorite character from Black Panther is Shuri and she loves that technology was used to heal people.

"Now that she has earned some responsibility, I am now going through the process of getting engaged with my career and at the same time she gets to be exposed to some of the things that I do as an engineer in tech," Majid said.

Majid also said that Josephine enjoys playing video games, and that parents should not be afraid to allow their children to play video games with the right moderation. She said that exposure to technology is progressive and that it can be useful to understand certain tech tools in order to prepare for the future.

"I started out in hydraulics coming out of my career, but I've always been passionate about the medical industry, so I'm actually going towards biotechnology," Majid said. "Anything is possible. There's no time-frame on anything. There's no age limit. There's no man versus woman. Stop with the limitations."

Majid said that she would like to come back to JOURNi's Youth Tech Exploration course as a volunteer because she's also part of the National Society of Black Engineers Detroit Chapter.

The Importance of Gender Inclusive Technology Courses

Deadra Rahaman of Detroit has a son and daughter who both attended this past course, the first course they've taken with JOURNi. Rahaman said that both of her children are into gaming, so they participated in the video games station during the Youth Tech Exploration course.

"The focus is so much on girls that I'm struggling to find STEM programs that include boys," Rahaman said.

Rahaman said that while she's all for the Women's Movement, along the way we've forgotten about the boys and should also be focusing on providing more STEM courses for them, too.

She said that she thinks JOURNi's program is great, and that she would also like to see more science and advanced research courses.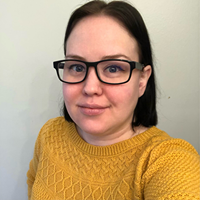 Caitlin Renton owns and manages Silicon Rust Belt with the goal of spreading the latest news about technology events and startups in the Midwest. She is a copy editor, writer, cat mom and horror movie enthusiast from Michigan.