Michigan, Profiles
Have you ever wondered what it would be like to work as a graphic designer in Detroit? There are loads of opportunities for work in Detroit and because the city has such an established art scene, graphic design definitely has its place in the city.
Detroit Offices Offer Spacious Spaces to Get Creative
If you've ever visited a workspace in Downtown Detroit, it was likely one with an open, contemporary vibe. Hudson Edit in Downtown Detroit is one of those places where you can just walk in and feel the creativity. When you first enter, you immediately see an open lounging area with a coffee maker and a record player. Then a hallway leads to single offices for employees.
These offices have large windows that allow the light from outside to peek in. According to a study by the Department of Design and Environmental Analysis at Cornell, employees who work in offices with more natural lighting noticed headaches, blurred vision and eyestrain decrease significantly, by 84 percent.
Hudson Edit has ten to fifteen employees who provide creative video production and post-production solutions including directorial, editorial, motion graphics and audio services for their clients. Chris Naglik, the Motion Design Director at Hudson Edit, described the company as "a collective of artists who work together, who support each other, who help each other out on projects and who are always trying to get each other work."
Naglik said that his typical work day starts with a cup of coffee, but from there on every day is different. Whether he's working on a current job, brainstorming or doing research and development, no work day has exactly the same set of steps.
There's No Shortage Of Automotive Clients
One question you may have when pursuing your graphic design career in Detroit is, "what type of clients will I have?" With Detroit being heavy in automotive companies, you will have ample opportunity to snag some big clients.
Hudson Edit does a lot of work for automotive clients, but their work doesn't end there. The company does work for all kinds of clients in the Detroit area.
Detroit is the perfect setting if you want automotive clientele, but the city also has a plethora of other businesses you could design for including restaurants, bars, financial companies, hospitals, tech startups and more.
Detroit Provides A Chance For Business Collaborations
Working in Detroit can potentially allow you the chance to collaborate with other businesses and organizations in the city in order to produce a unique effect on projects that your company otherwise wouldn't have been able to do alone. Hudson Edit has teamed up with other businesses in Detroit and is open to other joint company efforts in the future.
Detroit company Woodward Original reached out to Hudson Edit one day to ask if they would be willing to work together on an animation for Stock X. Naglik said that the overall result from the collaboration was a success.
The positive atmosphere of Hudson Edit doesn't end there. Naglik has a wall of hats and wigs in his office. He said that he offers clients hats to wear when they meet with him.
Naglik also said that there's a sense of trust within his company to allow him to set up his projects as he sees fit. There's nobody between him and the client breaking down or rearranging his original visions.
"I feel very fortunate right now that I have this autonomy where I can see an idea through to a point where it sees the client. I start brainstorming, 'What could be cool for 30 seconds that's feasible given the budget and given the amount of time I have to do that? What would be fun to do for me?'" Naglik said. "I feel like in Detroit, where I am at here, I'm in a position where I can do that."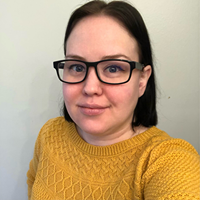 Caitlin Renton owns and manages Silicon Rust Belt with the goal of spreading the latest news about technology events and startups in the Midwest. She is a copy editor, writer, cat mom and horror movie enthusiast from Michigan.