Profiles

Are you looking for a tech job in Detroit? Integral is a software consulting and development firm that was founded in 2017 in Detroit. The startup hosted an event for their program called Integrate Detroit this past week.

For years now, Detroit has been a confluence of business-oriented individuals who are looking to build startups. Integral's co-founder Ashok Sivanand moved to Detroit from Toronto two years ago. He initially visited Detroit for an assignment he was working on at his last job.

"The six months turned into a one-year assignment, and somewhere along the line I realized that the reason I was extending it was because I like Detroit," Sivanand said.

Integral consists of employees who moved to Detroit from New York, Chicago and more. Their Integrate Detroit program was built as a talent source in order to train interested individuals the skills it takes to join their team and to stress the importance of diversity in tech.

"You notice it even more in a city like Detroit that's 82 percent African American and nowhere near that when you walk into a technology office," Sivanand said.

Each of Integral's cohorts participated in the Integrate Detroit program for a set of four months. Each cohort builds upon the previous cohort's work.

"We are hoping to hire as many of these students as possible," Sivanand said.

For every cohort that Integral has, a Demo Day is held to show the work that the students completed on their first big project. The Demo Day takes place mid program.

William McKelvey of Detroit was in the program's previous cohort. He attended Demo Day last week to support the current group of students. Before joining Integrate Detroit, he had finished a tech boot camp and he was looking to get experience in test-driven development and java.

"One thing I loved was the mentors, especially from Integral, the actual company coming in and actually helping us learn the code but also working with us to improve our code," McKelvey said.

Aside from McKelvey, there were several other alumni attending Demo Day to support the second cohort.

Current Students and Demo Day Presentation

Integrate Detroit's second cohort presented the codebase projects they've been working on. Part of their presentation was focused on test-driven development (TDD) which means creating a test that is meant to fail first, then making modifications to the production code to make it pass the test.

They also discussed their journey with pair programming. Pair programming involves two programmers working at one work station. The driver of the pair writes the code and the navigator reviews the code as it is being typed. The programmers switch roles throughout the work period.

Another method they used was mobbing or mob programming which is when a team works on the same project at a shared computer at the same time. This method was a favorite of the current cohort as the team was able to put their strengths together and brainstorm ideas.

During their presentation, the students also emphasized the importance of diversity in the tech field.

This cohort's students include Stephanie Vaughn, Joya Puryear, DeShayla Cisero, Kim Sanders and Clark Vaughan.

Clark Vaughan of Detroit had a friend who invited him to the previous cohort's Demo Day. Vaughan became interested in joining the program after speaking with Integrate Detroit's co-founder and program instructor Samah Majadla during the event.

"Samah is a very bright person and a very dedicated teacher," Vaughan said.

Vaughan said he had previously been disappointed with other programs he had been in because he needed more time to digest the material. He had a harder time retaining the material in an immersive six-week course. It was easier for him to retain information over an extended period of time with the four-month Integrate Detroit program.

Vaughan also said that he had tried learning some tech on his own, but that he doesn't recommend doing that because you can get stuck focusing on one area and end up not understanding how the whole system works. In contrast, Integrate Detroit taught him how the whole system works together.

DeShayla Cisero of Detroit had heard rave reviews about Integrate Detroit from a previous cohort member at the Grand Circus program.

Once Cisero found out that she was officially invited to be a part of Integrate Detroit, she was so excited that she changed her whole schedule to fit around the program.

"Samah intentionally picks students who are passionate, and that's why we kind of drill down on diversity because we're all really passionate about that, as well," Cisero said.

The cohort will present their final project at a second Demo Day.

Integrate Detroit's Commitment to Diversity

Kim Sanders of Southfield, MI said that prior to joining Integrate Detroit, she was learning from an online boot camp and she was having a hard time getting her foot in the door. She didn't have a lot of confidence while applying for jobs. She found Integrate Detroit on Twitter and decided to apply.

Sanders said that the program is really hands-on and she is learning tools that she would actually use at a job. The students learn how to break a project down step by step.

Sanders also said that a lot of Detroit tech companies lack a diverse work environment.

"There needs to be more women. There needs to be more people of color. There needs to be different personality types really for these companies to thrive," Sanders said.

Find out how some prominent tech-based companies rank in diversity here.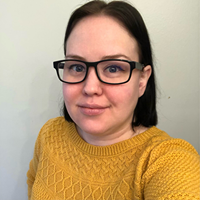 Caitlin Renton owns and manages Silicon Rust Belt with the goal of spreading the latest news about technology events and startups in the Midwest. She is a copy editor, writer, cat mom and horror movie enthusiast from Michigan.