Profiles

Some Rust Belt-based grocery stores are jumping on the bandwagon that Amazon Go seems to have created with their cashierless stores. While Amazon Go does already have two locations in Chicago, IL, other grocery stores in the Midwest have taken it upon themselves to implement the new concept at their own stores.

Earlier this year, both Meijer and Kroger decided to test out a program that allows customers to scan products as they shop. Customers can bag the items as they go along, and they only have to pay at checkout when they've finished shopping.

Michigan company Meijer calls their program Shop & Scan, which can be found on Meijer's mobile app. According to Meijer's website, Shop & Scan is currently available in Western MI; Grand Rapids, MI; Lansing, MI; South Bend, IN and Fort Wayne, IN.

Kroger, the Ohio-based grocery store, recently implemented their Scan, Bag, Go program of the same concept.

The difference is, at Meijer, customers scan the items with their mobile phone while at Kroger, customers have the option to use their mobile phone or they can grab a scanner that is supplied for them in store and use that to scan their items. According to an article from the Detroit Free Press, the program is currently available at participating Krogers in Northville Township, MI; Ann Arbor, MI; Rochester Hills, MI and Canton, MI.

Toledo, OH resident and frequent shopper Mallory Wolf has tried Kroger's Scan, Bag, Go program in Holland, OH and she said it was an easy process.

"It was quick and easy," Wolf said. "You just bag the things as you go. I like it a lot better than having a customer service rep because when you're ready to check out you just scan and go."

After customers shop and scan their items at Kroger, they should proceed to the checkout line to scan the barcode that indicates they are finished shopping, then pay and leave.

"I do it at the self checkout," Wolf said.

While some shoppers prefer the convenience of scanning while shopping, both Meijer and Kroger still provide cashiers for those shoppers who prefer a more traditional shopping experience.

From A Marketing Perspective

"Beyond just cashierless stores, I think that we are looking at a time period where we're going to see a massive shift in retail very broadly," said founder and CEO of Rebel & Reason, Nicola Smith.

Smith founded Rebel & Reason in 2016, but she has been working in technology-based marketing for 15 years.

"Rebel & Reason is a brand marketing and innovation consultancy firm based in Atlanta, Georgia," Smith said. "We really focus on helping brands understand and redefine rebellion as a positive trait that helps to drive really innovative thinking within their organizations."

Smith said that "rebel" is often thought of in a negative context such as "rebel without a cause." She said that people who have challenged certain norms, however, are often the ones who have made progress throughout history, whether it be civic leaders, artists, scientists or inventors.

Smith said that she thinks the benefits of having a cashier or not having a cashier depend on what you're selling and who your audience is.

"The reality is, if you are selling a financial product to folks that are boomers today, the likelihood is they're not going to be comfortable making that type of a purchase decision without a person present," Smith said. "I do think we will see an evolution towards that, especially as we think about more everyday retail types of purchases, but I think there will definitely continue to be places for human interaction."

Smith said part of having a rebel mindset is being fearless and adaptable. While she's very open to emerging technologies, she also wants to make sure that she understands any potential risks when making the decision to purchase or use new technology.

While she believes that technology will solve many world issues, she is also skeptical about people being able to make good decisions about how to use new technology to our advantage.

"You can be rebellious and still be skeptical of technology if you like," Smith said.

Smith referred to smart home devices as an example. According to an article from The New York Times, smart home devices are being tied to domestic abuse cases where abusers have power to control or watch or listen to their victims. Using an app on their cell phone, abusers can control devices in the home to try to harass or scare their victims. This is one drawback of the emerging technology.

Smith said that having a diverse team is imperative to addressing these types of issues before launching the product.

"Through a lot of my work on positive rebellion and strategic rebellion, I've found that having more diverse voices in the room forces people to question their assumptions and often brings a perspective that would not automatically be considered," Smith said.

She said that she thinks that retail brands have a big opportunity to become leaders and experiment with new ideas, and that consumers would likely be open to new innovations.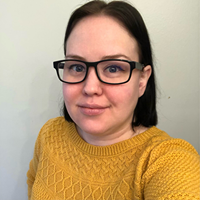 Caitlin Renton owns and manages Silicon Rust Belt with the goal of spreading the latest news about technology events and startups in the Midwest. She is a copy editor, writer, cat mom and horror movie enthusiast from Michigan.