Profiles
Bot Battle At The 2018 Ohio State Fair
Build your own robot to bring to the Robot Combat event at the 2018 Ohio State Fair. The National Robotics Challenge (NRC) is the longest-running robotics competition in the world with 32 years of challenges under its belt. The NRC and EduEverything will sponsor the Robot Combat event at the Ohio State Fair on August 2nd. The competition runs from 9 a.m. to 3 p.m.
Tad Douce, Director of Events for The NRC and Executive Director of EduEverything, said that the NRC has held the Robot Combat competition for about 4 years now.
Participants will have the chance to bring in a prebuilt remote-controlled robot assembled to destroy its robot competition. Douce said he mainly sees participants who are of high school age, adults, and some middle school students participating in the Robot Combat event, though it is open to people of all ages.
Challengers must build their robots according to Standardized Procedures for the Advancement of Robotic Combat (SPARC) Robot Construction Specifications v1.1. The rules allow for robot competitors to fit inside a 14" x 14" x 14" space. Robots that do not meet these standards will be disqualified, depending on the violation. Challengers can make modifications and repairs to their robot to make them compliant to these requirements during the event if needed.
"Sometimes if it's a weapon violation we just require them to unplug the weapon so that it can't be used," Douce said. "If it's size or something that can be a real hazard, they have to bring it into compliance before they can compete."
The robots will battle it out in brackets with a set time limit. If one robot stops functioning, the other team wins the competition. If both robots are still standing by the end of the bracket, then three judges vote on who the winner is. Their decision will be based on a specif rubric, judging who is most aggressive and who had the least damage.
Douce will be directing the event, overseeing the setup and administering safety inspections. Competition winners will receive a special plaque.
More On NRC Competitions
While the NRC has held several events at the Ohio State Fair over the years, this will only be their second Robot Combat competition at the festival. Douce said he would like to see more competitors this year.
The NRC holds their main annual event in April. Douce recalls that during one of these competitions, a piece of a robot broke off and flew across the combat arena. The piece hit the Plexiglas border and actually cracked it. The team had to make repairs and add aluminum plate along the bottom for protection of the arena before the next robot battle.
"The robots are getting faster and more powerful, and so we're constantly having to upgrade our arena to hold them in," Douce said.
Douce's son started building his first combat robot for this year's April competition, but he didn't finish it in time. He used Autodesk Inventor to design the bot and used a 3D printer to print it. They are now trying to finish working on the robot so he can compete at the Robot Combat event at the Ohio State Fair this year.
Supporting Diversity In Robotics Careers
"Robotics seems to fit a wide demographic," Douce said. "It's a young enough field that it doesn't have the gender bias that some other things do like rockets or cars. Both males and females seem to identify with robots, so you get a lot more interest and a broader range."
Douce said that the NRC is always looking for partners, whether it be schools, Boy Scout and Girl Scout Troops, 4-H clubs or organizations that want to be involved with robotics competitions. He welcomes companies that show interest in encouraging and supporting curious individuals to talk with him about possible sponsorship of the NRC.
He said that schools nowadays focus a lot on testing and less on hands-on learning that could be beneficial to certain career openings that are out there. The robot competitions allow participants the opportunity to get a feel for working with robotics and to see if they might want to make a career of it.
"I wanted to find something that every kid could relate to," Douce said. "You can design robots to draw a picture. You can design a robot to make an ice cream cone. You can make a robot to battle. It's a really open field."
Interested individuals can sign up for the Robot Combat event here!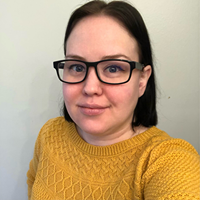 Caitlin Renton owns and manages Silicon Rust Belt with the goal of spreading the latest news about technology events and startups in the Midwest. She is a copy editor, writer, cat mom and horror movie enthusiast from Michigan.