Profiles

Professionals gathered together for Startup Detroit Happy Hour at WeWork in Detroit on Tuesday. Startups not only got the chance to mingle amongst fellow businesses who are in their beginning stages, but they also got to enjoy refreshments and sushi in a relaxed environment.

Detroit Venture Partners (DVP) and re:purpose work together to put on Startup Detroit Happy Hour. The event is sponsored by Postmates, a delivery and pickup app for meals and groceries.

Detroit startup re:purpose helps individuals who are looking for jobs match with a Michigan tech company or startup they can potentially work for. Their Happy Hour networking events take place once a month on the fourth Tuesday of the month.

Happy hour host Jessica Katz of re:purpose said that re:purpose and DVP originally came up with the idea for the event about a year ago when they were brainstorming how to both retain Detroit talent and attract talent to Detroit. The very first event was a success with about 100 visitors, and since then about 100 to 150 people show up every month.

"It's not about re:purpose. It's not about DVP," Katz said. "It's about Detroit and people growing together and building a community."

Metro Detroiter Ryan Landau founded re:purpose two years ago.

"If you want to start and grow something, I think Detroit is a great incubator to make that happen," Landau said. "Start your product, prove your value proposition and then really scale it to the world from there."

Landau said that re:purpose plans to expand the Happy Hour to San Francisco, New York and Chicago next year.

Meet The Detroit-Based Talent

Jon Rimanelli, founder and CEO of Detroit Aircraft Corporation, was among the visitors at Startup Detroit Happy Hour. Rimanelli said that the purpose of Detroit Aircraft Corportaion is to design and build aircraft that move people or cargo between cities and airports using validated electric vehicle technology. The company was founded in 2011.

"Essentially you can skip traffic for the price of an UberX ride," Rimanelli said.

Detroit Aircraft Corporation started working with Uber about a year and a half ago to develop aircraft that will be used through the Uber app. Uber Air will begin test trials in 2020 and is set to implement the aircraft officially in 2023.

Another visitor at this month's Happy Hour was Steven Hawring of Royal Oak, MI. Hawring is the founder and Principal Creative Director of Hexagon Creative.

Hexagon Creative is a creative agency specializing in different types of media including web, graphic design, digital marketing, animation, motion graphics and video production. It became an official LLC in 2017.

Another visitor was Jeffrey Wegner of Detroit who was looking forward to supporting and encouraging individuals who work in the same field as him.

"I knew that it was going to be a good networking event for like-minded individuals to express their thoughtful ideas and their action plans," Wegner said.

Wegner wrote, directed and produced a feature-length narrative called "Plastic Movie." His company is Movement Film Studio of Detroit which focuses on providing visual and digital campaigns for clients.

Wegner has traveled to other cities across the country and met different brands throughout his journey, and he said that he continues to be impressed by Detroit talent.

"There's no feeling like working with Detroit-based entrepreneurs and startups because they really understand what I consider 'digging through dirt, looking for gold,'" Wegner said. "They're doing it so well and it's incredibly amazing to see that resilience."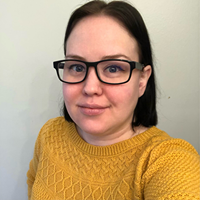 Caitlin Renton owns and manages Silicon Rust Belt with the goal of spreading the latest news about technology events and startups in the Midwest. She is a copy editor, writer, cat mom and horror movie enthusiast from Michigan.