Regions

Indy Women in Tech (IWiT) will be hosting their annual IWiT Summit on Tuesday, August 14 at the Indianapolis Motor Speedway Pavilion. IWiT will also be hosting a number of related events—a panel discussion, an LPGA Golf Tournament, byte @ The #IWiTCHAMP and The Eureka! Exchange—which will all be taking place during the same week.

How IWiT Supports Women in Tech

Former Indianapolis Mayor Greg Ballard and and Dan Towriss co-founded IWiT in 2016 when Ballard decided that women in tech was an area that they should be looking into. IWiT partners with Eleven Fifty Academy and Ivy Tech to put women through tech training programs.

"The salaries they get when they're done is stunning compared to what they were getting," Ballard said. "We actually pay for people to go through the courses and bring them out on the other end, and it's been a spectacular success."

A recent study by Microsoft indicates that few women have interest in STEM fields by the time they reach middle school and their interest declines even more over time. The study also shows that girls are more likely to feel "empowered" when participating in STEM activities if they know a woman who works in the STEM field. Whether it's due to the lack of encouragement young girls receive from parents and mentors, the lack of exposure they have to STEM activities or because they just don't see themselves pursuing a career in that field, tech is a male-dominated industry.

"We lose the young women in middle school, so we want to keep them interested and show them that 'you can do this' because look at all these other women who are dong it right now," Ballard said.

Tech in Indiana has been progressing, now with 900 elementary school VEX robotics teams. IWiT is the head sponsor for VEX State Robotics Championships, the second largest VEX robotics competition in the world. They also sponsor a STEM day at a college campus every year for over 600 middle school girls.

IWiT Championship Week 2018

Executive Director of IWiT, Jody Dedon, said that their Summit will kickoff the entire IWiT Championship week. Last year, IWiT invited over 400 industry and community leaders interested in encouraging women in tech. This year, the organization invited those same industry leaders back to find out who is creating change and how. Dedon said she would like the event to grow in number and to eventually be open to everyone.

"I think it's really about those change-makers," Dedon said.

IWiT Summit Keynote Speaker

Founder and CEO of Girls Who Code, Reshma Saujani, will make an appearance as Keynote Speaker during the Summit. Girls Who Code is a non-profit organization with the mission to close the existing gender gap in the technology field throughout the U.S. The organization has had huge success, reaching almost 90,000 girls of diverse ethnicities and races.

Panel Discussion

Last year's topic of discussion was on gaining awareness for women in tech. This year's topic will kick it up a notch by asking, "What's next for tech in Indiana and what actions are we taking to promote women in the field?" The panel discussion will take place on the day of the Summit and will be led by various industry leaders.

"It's not enough to just get women into tech," Dedon said. "We have to look at 'What's the culture of tech in our community?' and being able to say what kind of culture are we creating in tech that includes it for everyone where voices are heard, where people are welcome, where women and men are equally supported."

IWiT LPGA Golf Tournament

IWiT's second annual golf tournament will bring in about 144 LPGA golfers and is a designated stop on the LPGA Tour. The purpose of the tournament is to raise funding for programs that IWiT provides throughout the year. Last year, professional golfer Lexi Thompson was the winner of the competition taking home $300,000. The collective purse was $2 million. The official rounds for the golf tournament will take place on August 16th through the 19th at the Brickyard Crossing Golf Course.

The Eureka! Exchange (TEE)

This program will bring in over 1,000 Indianapolis middle school students from select schools to participate in STEM hands-on activities. These students will have the chance to work alongside current female tech leaders. TEE will be held at the Indianapolis Motor Speedway East Chalet, with participants from Indiana School for the Blind.

byte @ The #IWiTCHAMP

Yes, there will be food! Save your appetite and get a taste of the delicious food and beverages from some of Central Indiana's restaurants and breweries. Tickets for byte are $20 for each day for adults and children.

#SeeYourselfHere Campaign

"We are starting a movement in Indianapolis, and it is all about seeing yourself in Indiana, seeing yourself in tech and seeing yourself at the table," Dedon said. "So what can we do as business leaders and as leaders of our community to make this community inclusive for all?"

One of Dedon's favorite moments with IWiT was when two of their students contacted the program director to tell her that they both received their first paycheck. They were overjoyed that they had made so much money. One of the women was previously struggling to buy school supplies for her children. Her new career in tech provided her with the money she needed to pay for the supplies and more.

Dedon said that by 2024 we'll have over 10,000 new tech jobs.

She said, "I think the biggest takeaway for this year's Summit is 'How can we make Indiana a place that will attract the future workforce that's going to be needed to sustain itself by the year 2024?'"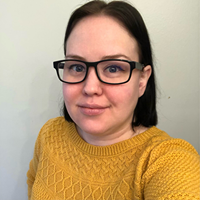 Caitlin Renton owns and manages Silicon Rust Belt with the goal of spreading the latest news about technology events and startups in the Midwest. She is a copy editor, writer, cat mom and horror movie enthusiast from Michigan.