Profiles, Regions

PonCon 2018 Highlights and Speakers

On Saturday, The Technology & Networking User Group (T.NUG) hosted the first Pontiac Technology Conference (PonCon) at the new United Shore headquarters in Pontiac, MI. Attendees had the chance to learn from several tech professionals who spoke at the conference.

Starting off the speakers, Senior Web Developer of Cleveland Tech Events Sarah Dutkiewicz spoke about servant leadership in the tech industry. The following speakers for the day were Chase Aucoin of AppDynamics, Gaines Kergosien of UBS, Eric Potter of Aptera Software, Wolfgang Goerlich of Strategic Security Programs and mental health enthusiast Arthur Doler.

"Sarah is a great speaker. Gaines is a great speaker," said attendee Dustin Kingen, a developer at WambaTech in Royal Oak, MI. "I'm going to see so many good talks that I haven't seen before and I'm going to get to meet people."

Sr. Vice President of Strategic Security Programs for CBI, Wolfgang Goerlich gave his speech on the DevOps movement and cyber security throwing in superhero references and analogies throughout. Attendees took notes and giggled at his relevant superhero jokes during the presentation.

Goerlich said that his top priority is speaking at new conferences and events that reach out to him because he wants to encourage fellow techies in the sharing of information and building strong communities.

"I'm a Detroit native; I grew up in the Rust Belt. I've watched Detroit come back and embrace technology," Goerlich said. "It's always been a part of me to give back and start communities, so I've started a number of security communities and I've supported new communities."

Goerlich speaks at tech conferences across the U.S. and has even traveled overseas for conferences.

Vice President of T.NUG and organizer of PonCon, Hussein Farran, said the types of people who usually attend these events are individuals who already have community involvement (much like Goerlich). Farran said that he hoped PonCon will encourage non-regulars to come network and get involved.

"I wanted to be able to offer them some sort of speaker lineup that didn't just alienate them, like those super heavy technical details," he said. "That's why we have Sarah Dutkiewicz who gave her servant leadership talk this morning, and we have Arthur Doler giving a talk about maintaining your mental health and being cognizant of how you're working."

Farran said that next year's PonCon isn't set in stone, but there has been talk about making it "bigger and better."

Overflow of Tech Resources in The Midwest

Getting involved is now easier than ever. Farran said that MeetUp.com is a great place to start. You can also email an organizer of a local group, and the organizers should be welcoming and happy to chat with someone who has similar interests.

Another great source for finding tech events in your area is Eventbrite. Just choose "Tech" from the Search Menu of types of events in your county.

Nowadays, the Rust Belt alone as well as the rest of the U.S., has plenty of tech resources such as websites, conferences, courses and more.

"When I was young I was always into computers, technology, math and science, and there was generally an atmosphere of scarcity. I didn't have access to that computer or to that book. I didn't have a mentor," said PonCon attendee Dan Diebolt, a consultant for Netelier. "Today, we're overflowing in resources between meetups and courses and internet resources."

Attendee Nora Lim who works for OpenSymmetry out of Austin, Texas recently moved back to Michigan. She said that PonCon was a way for her to network and that she would like to attend more tech conferences in the future aside from PonCon.

"When you work remotely, you don't get an opportunity to meet other colleagues that are in similar IT professions," Lim said. "This is my way of meeting the local people and getting more involved in the community and just kind of finding out what's out there."

The Importance of Mental Health in The Workplace

This year, T.NUG invited Art Doler, software engineer and mental health advocate, to speak at PonCon. His was the last speech of the day, setting an ambiance that attendees will hopefully take with them to implement the value of mental health at work.

About three years ago, Doler started traveling mostly across the Midwest to speak at technology conferences.

"I swiftly ran out of technical topics that I cared about and moved into starting to talk about cognitive biases in technology," Doler said. "I realized that I had a lot of passion around that topic and it was a way for me to not only talk about the stigma and prejudice with people who have mental health challenges, but to also help us build more resilient, robust teams and better performing software that reacts how our users would expect it to."

According to an article from Psychology Today, companies who place value on their employees' mental health report a lower turnover rate and more productivity from employees. The four factors that the article denotes as beneficial to an employee's well-being include appreciation of the employee, a balanced work-life dynamic, available mental health resources and overall healthy living.

According to the World Health Organization, depression and anxiety account for $1 trillion in loss of productivity per year in the worldwide economy. Addressing the issue of negativity in the workplace can lead to clearer communication amongst employees and a positive work atmosphere.

Entrepreneurs in the tech industry who are building startups work long hours and can be prone to high stress levels. University of California surveyed both entrepreneurs and a group of other participants and found that a higher number of entrepreneurs reported having some sort of mental health issue.

According to an article from STAT news, the tech industry has been starting to address mental health in the workplace and even come up with ways to help with disorders such as nicotine addiction, phobias and public speaking anxiety.

There have even been events based entirely on mental health in the tech industry. This year, the very first Anxiety Tech conference was held in San Francisco. The event urged solutions for positive mental health in the workplace and shared ways that technology can be of help.

Doler spoke about mental health in the workplace (especially geared toward those in the tech industry) and he gave some sample scenarios about how to talk about mental health with coworkers. He made it clear to his audience that he was not a psychologist and that the advice he was giving was not to be considered medical.

He also spoke about his own experiences with mental health stemming from back when he was a kid and feeling different from his peers. He spoke about his personal experiences with ADHD, his anxiety disorder and having panic attacks.

"I found my personal road to recovery and I've been walking that ever since," Doler said in his speech.

Doler said that just talking about mental health challenges at work and showing empathy and compassion can help to create a more positive work environment, but to also remember that it is not your job to solve your coworker's mental health problem. That's where a psychologist or another form of support for your coworker would come in.

He also gave some tips to help manage mental health challenges on a daily basis: Meditate, try the Wellness Recovery Action Plan (WRAP), seek therapy and treatment, and maintain a healthy diet and exercise.

"If you have a diagnosis with mental health or even if you don't have a diagnosis and you're having mental health problems, just know that you are not alone and that there are people out there who can offer you support," Doler said. "Even if you don't find them, we're out here rooting for you."

If you are experiencing mental health challenges or thoughts of suicide, here are some resources Doler mentioned in his speech: OSMI, Mental Health First Aid training, Mental Health America, the Omaha Mental Health User Group (OMHUG) and the National Suicide Prevention Lifeline.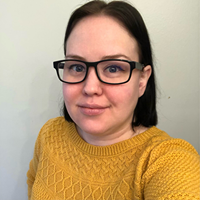 Caitlin Renton owns and manages Silicon Rust Belt with the goal of spreading the latest news about technology events and startups in the Midwest. She is a copy editor, writer, cat mom and horror movie enthusiast from Michigan.