Profiles

The North American International Cyber Summit welcomed Michigan Governor Snyder as its host and industry experts this past Monday at Cobo Center in Detroit. This year's cyber summit theme was Taking the Lead: Collaborating to Solve National Cyber Security Problems.

Cyber Dog Steals The Show

Kibbey the Michigan State Police cyber dog, and perhaps the star of the summit, drew in a packed room of spectators. Visitors took up all the seats and some were standing to see the 2-year-old lab in action.

Kibbey is referred to as a "cyber dog" because she is trained to locate electronic evidence in investigations.

"We call her a cyber dog; a lot of people think it's a robotic dog that finds stuff for us," said David Cardenas of the Michigan State Police Canine Unit. "It's not a robotic dog. She's a real dog, but she finds electronics."

Kibbey was trained to sniff out Triphenylphosphine that is commonly found in circuit boards. The collar she has is her cue to work. When the collar is on, she is ready to search for electronic evidence.

Cardenas said that the electronics that Kibbey uncovers are found for the Computer Crimes Unit. They also conduct searches for digital evidence in drug teams, homicide scenes and breaking and entering scenes.

Kibbey has been a cyber dog for about a year and a half. In order to become a cyber dog, the dogs have to pass a test. Cardenas said that the dog should have a high prey drive.

Cardenas was recently approached by the Michigan State Police Fire Investigation Unit who mentioned that the Alexa device is being used to start fires and that Kibbey could be of help in finding these devices.

Kibbey lives with Cardenas as they are on call 24/7. When the the dog's retirement comes, their handler has the option to keep the dog or give it away. Cardenas said that most of the handlers in his unit keep their dog or give them away to someone who is close with them.

"We're still getting the word out that we're here," Cardenas said. "Not a whole lot of people know that this dog is available and when they do, like I said, they think it's a robot."

After the Michigan State Police Canine Unit realized that Kibbey was a successful cyber dog, they ended up training a second dog for cyber searching in Northern Michigan. They are one of the largest canine units in the U.S.

Sponsoring the Event

Sponsors of the summit include Deloitte, IBM, Microsoft, Planet M, Eastern Michigan University's College of Technology, Verodin and more.

Eastern Michigan University's College of Technology was a sponsor for the summit this year and for the last couple of years, primarily as a means to bring in new students who participated in the featured high school challenge. The summit is also a networking platform to meet industry leaders who can potentially provide their current students with career opportunities.

"It's small enough that you can actually talk to people," EMU part-time lecturer Chris Krieger said.

Krieger has been teaching for 6 years. He said that he would like to see more colleges sponsoring the event to recruit students because they ultimately need more people interested in the cyber security field.

Retired Major General of the U.S. Air Force and CISSP Earl Matthews was representing event sponsor Verodin, a security instrumentation company.

Verodin represents the goddess Veritas for truth and the god Odin for wisdom and battle. Verodin consider themselves the "warrior of truth" company because they produce data on how security products are working in the production environment.

"We believe that organizations have already spent enough money on cyber defense products," Matthews said. "We want to help them test to make sure that they don't have gaps and misconfigurations of what they've already spent before they go and buy yet another product."

Matthews gave a speech at the summit about a five-step process on how to implement cyber security in a different manner than we are currently.

"I'd like to give kudos to Governor Snyder," Matthews said. "I think Michigan has really led the way in addressing cyber security as being an issue, especially during the almost eight years of his term."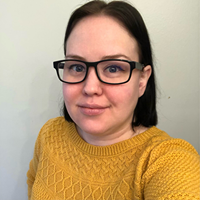 Caitlin Renton owns and manages Silicon Rust Belt with the goal of spreading the latest news about technology events and startups in the Midwest. She is a copy editor, writer, cat mom and horror movie enthusiast from Michigan.