Profiles

If you weren't able to make it to the Autonomous Vehicle Technology Expo in Novi, MI, here's what you missed. Local to international brands came together for the expo at the Suburban Collection Showplace last week to spread the word about what their companies are doing in regard to autonomous vehicles.

Rust Belt Brands

Measurement Instruments (see main photo) dedicated a full aisle to representing their brand and displaying the features of their company. The electronic parts supplier is headquartered in Blairsville, PA and has several locations in the Rust Belt including Farmington Hills, MI; Cuyahoga Falls, OH; Dayton, OH and Indianapolis, IN.

President of Measurement Instruments, Michael Gwinn said that the company has been supporting the autonomous vehicle world for a few years now.

"That's the future. Autonomous vehicles are going to be in the marketplace and going to be taking over quite a bit. Combustion engine is probably going to be around much much longer, but there will be autonomous driving vehicles and it's critical that we be here to support it," Gwinn said.

Another Rust Belt-based brand that made an appearance at the expo was P3 North America of Southfield, MI. P3 North America is an engineering and consulting service company that provides solutions to Original Equipment Manufacturers (OEMs) and Tier One companies in the U.S. automotive industry.

James Forgacs of P3 said preparing for autonomous vehicles is important because it can provide mobility to people who can't drive or who no longer want to drive.

Dataspeed Inc. of Rochester Hills, MI was also at the event representing their brand.

"We essentially support the autonomous vehicle development community with robotic vehicle platforms," said David Agnew, head of business development for Dataspeed.

Agnew said that autonomous vehicles has been the company's focus for the past four to five years because that is the biggest market.

Another brand located in the Rust Belt that made it to the expo was imc DataWorks of Novi, MI. The supplier provides measurement and control systems for data acquisition needs.

Outside of the Rust Belt

One of the brands that was eager to speak about autonomous vehicles was Vision Systems Intelligence, LLC (VSI) of Saint Louis Park, MN. VSI uses their primary research on autonomous vehicle technology, applies it to their vehicles and does hands-on experimentation in order to form a hypothesis about the technology.

"The best way to predict the future is actually to build it," said Danny Kim, Partner & Director of Advisory Services for VSI.

Right now, they are focusing on the Ford Fusion Hybrid.

"Our governor just put out an executive order recently to put together an advisory council to figure out how Minnesota can be best prepared for autonomous vehicles," said Sara Sargent, VSI Sales Support Engineer.

International Visitors

Marketing executive of Moshon Data Steph Setch was representing the company which is based in Oxfordshire, England. Moshon Data creates foam or inflatable soft targets for autonomous vehicle testing. The company also creates 3D cars to test auto parallel parking mechanisms.

HyunGoo Kang shared about the startup he works for, PopcornSAR of Seoul, Korea. The main goal of the company is to provide their clients with help using AUTOSAR Adaptive Platform and to make it easier to use and understand.

Haltermann Carless of Hamburg, Germany was another company representing their brand at the expo. The company produces specialty fuels for automotive, aerospace and marine testing.

"The event was a wonderful venue for us," said Bill Bovensiep, Sales Director for Haltermann Carless.

Haltermann Carless will soon have a location in Troy, MI.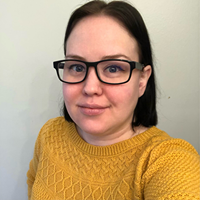 Caitlin Renton owns and manages Silicon Rust Belt with the goal of spreading the latest news about technology events and startups in the Midwest. She is a copy editor, writer, cat mom and horror movie enthusiast from Michigan.