Profiles, Regions
Startup Grind Columbus recently hosted a conversation called The 15 Year Exit with Andrew Graf who co-founded and later sold a company called TeamDynamix based in Columbus, Ohio. TeamDynamix is a B2B company focused on providing nonprofit organizations, colleges, universities and other non-corporate companies with work management software that was created to help companies make their business more efficient and organized. If you were unable to make it to Startup Grind's event, there's still a chance to read up on some of Graf's insight when it comes to B2B startups.
When Graf was working as a technology consultant back in the late 90's and early 00's, he realized he did not have the best management system for a project he was working on.
"We were working on a large international project and we did not have good tools to manage these initiatives, so the communication between people was only email and spreadsheets and sometimes even physical documents," Graf said.
His business partner developed a prototype in an effort to make the sharing of documents easier and more convenient. In 2001, Graf and his partner decided to take it to the next level and turn their idea into a business which is now known as TeamDynamix.
Based on his experiences, Graf had some helpful advice for entrepreneurs who are looking to build a startup.
Save Money Or Work A Side Job

Some experts recommend saving in advance before starting a business, and some experts recommend working a side job. There are a multitude of jobs you can go for in the tech field like SEO, graphic design or freelance web development. Whatever you decide on, it's important that you have enough money to support yourself while working on your new business.

Graf recommends saving money beforehand so that you don't have to worry about the bare necessities of simple living while growing your business. He said that he didn't accept paychecks for two years when first building TeamDynamix.

"That's not what I remember about starting the business," Graf said. "I remember the excitement and the long days, and it was fun."

Customer Input Is Crucial

All businesses should be listening to what their customers think about their products and services, especially in the beginning stages of business development. Graf explained that larger companies that are already quite developed don't always need to focus as much on customer service as startups do.

"When you're a startup, that's your differentiator," Graf said. "These customers need to get more attention and have more say in the product. We were able to do that, but it was exhilarating every time we landed a new client."

Graf said to get a product to market, get it into the hands of customers and give your customers a voice. That way, your company can analyze what's working for your customers and what's not working and determine how to fix that.

"I think my favorite part of the beginning was serving those first few customers and really seeing that, wow, people will get value out of this," Graf said. "They are willing to pay for this. That really was very motivating."

TeamDynamix also came up with a strategy to promote their customers in the customer's industry. They would sponsor clients to speak at a conference in their industry about TeamDynamix. To have someone else speak on the company's behalf gave TeamDynamix more credibility because they weren't just self-advertising, but they now had someone else who could vouch for them.

Figure Out Who Specifically To Sell To

With defining your brand comes finding your audience. Graf said that it's hard to figure out who to sell to when you don't come from a sales background. In TeamDynamix's case, it would have been a waste of time to try to sell their services to Fortune 500 companies. They were able to deduce that non-corporate organizations would be more likely to be interested in their products and services and would benefit from them in the long run.

"Figuring that out was a real problem," Graf said. "Once we did, it made all the difference, but learning those lessons was tough. We survived those mistakes and a lot of startups don't."


Hire The Smartest People You Can Find

Graf likes to hire intellect over experience. Productivity starts with an idea, and the brightest minds come up with the ideas that work the best. It's important, though, that the people that you hire are good people and work well with others. Graf said that hiring jerks can be toxic to your organization and it's not worth putting up with their baggage just for their genius. Focusing on hiring smart, good people is key.
Selling TeamDynamix
While Graf and his business partner could have sold the business after three to five years, the money they would have made from it at that point would not have made a major impact on their lives. They waited to grow the business before selling because they wanted it to be life-changing. They eventually decided to sell TeamDynamix in 2015.
Graf remained an investor and is actively involved in the company as Chief Product Strategist. Every six months he asks himself five questions:
1. Are we doing meaningful work?
2. Do I like the people I work with?
3. Am I having fun?
4. Am I learning something substantial that will help me in the future?
5. Is our opportunity going to be lucrative?
He said that when he is unable to answer "yes" to all of those questions, he will leave TeamDynamix and move on to other opportunities.
"There's a lot to be learned," Graf said. "At every stage of evolution, I've looked at 'what do I have to gain by sticking around' and 'is that going to be important for whatever I want to do next.'"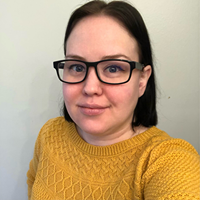 Caitlin Renton owns and manages Silicon Rust Belt with the goal of spreading the latest news about technology events and startups in the Midwest. She is a copy editor, writer, cat mom and horror movie enthusiast from Michigan.